Spring Cleaning Your Roof
The sun is shining, it's a beautiful spring day, and it's time to prepare your home for the season ahead!
Spring cleaning is a time to ensure that the outside of your home is in good condition after those cold winter months. One of the most important areas to clean and check is your roof. Regularly evaluating your roof can save you money in damage repairs over the life of your home.
Here are some essential items you should complete to spring clean your roof.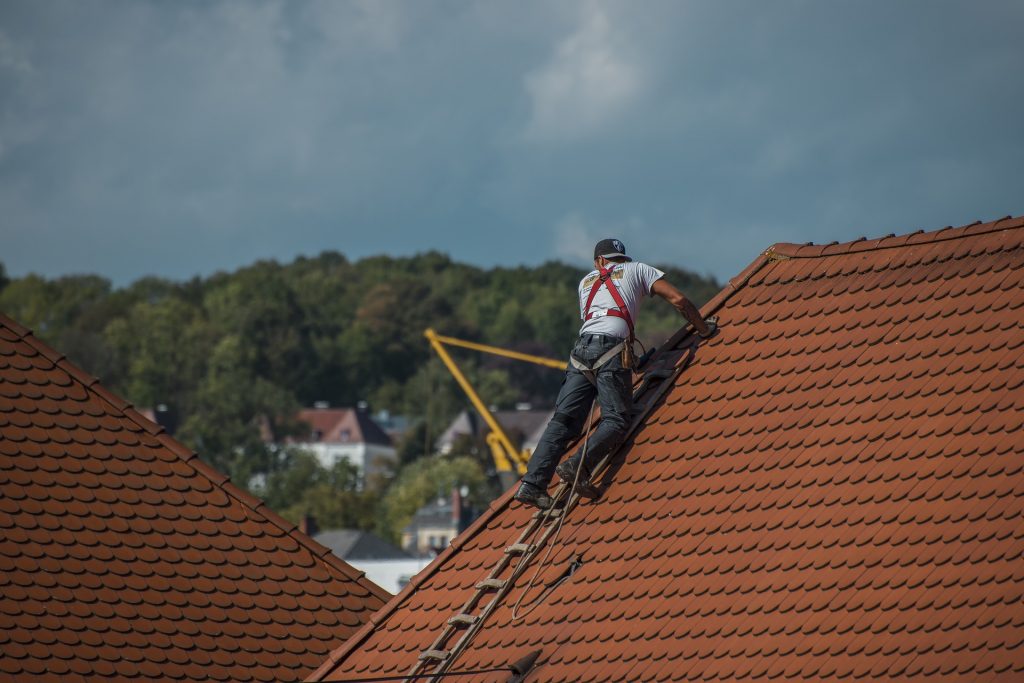 Clean out the gutter
During the winter months, your gutters can become damaged or filled with various types of debris. When spring comes around, definitely take some time to clean your gutters.
When cleaning your gutters, ensure that water has a clear pathway to your downspouts. Remove any leaves or debris that may potentially clog your gutters or stop the water flow to your downspouts.
In addition to cleaning your gutters, you should also inspect them for damage. Ensure that your gutters are hugging the roofline. If you find any detached areas or loose nails, fix the issue as soon as possible. If you notice extensive damage to your gutters, then contact a professional to help with repairs.
Inspect the roof
Inclement weather conditions during the winter months have the potential to damage or leave debris on your roof. During your inspection, be sure to clean off any debris that may be on your roof.
You should also inspect your roofing shingles to make sure they have not been damaged due to weather conditions. Check to make sure that no shingles are missing or damaged and that the roof has not incurred any structural damage overall. If you do find any missing or damaged shingles, they should be replaced immediately to prevent any further potential damage to your roof.
When inspecting your roof for damage, take extra precautionary measures to ensure your safety. If your roof is steep or you do not feel comfortable getting on your roof, contact your local roofing company to help with completing a full roof inspection.
Check for mold or mildew
Did you know that mold or mildew can grow on your roof? As a homeowner, this is something that you should watch out for. If you see any discolored streaks on your roof, this is an indicator that you may have mold. Since mold can spread quickly, have it taken care of as soon as possible.
Contact a professional to inspect your roof if you suspect there could be mold or mildew damage. Professionals can provide you with the proper steps to remove the mold and ways to prevent the mold from coming back.
Inspect additional areas
Roofing shingles and gutters are not the only things you should inspect on your roof as a homeowner. If you have skylights or a chimney, these are essential areas to check as well.
Ensure that the flashing, the material used to direct water away from these roof additions, is in proper working condition. If you notice any damage to the flashing, it will need to be repaired or replaced immediately to ensure you don't get a leak in your roof.
Trim tree branches
Though trees are not a part of your roof, they can still affect your roof. Look around your roof area to ensure that no branches are hanging over your roof. These branches could fall onto your roof and potentially cause damage.
Trim any branches that are hanging over your roof at the start of spring. Trimming branches can be difficult, so you could consider contacting a professional to handle this job to avoid the risk of injury.
Inspect inside the home
We have focused a lot on spring cleaning tasks for your roof outside of the home, but it is also important to inspect inside the home. Go into your attic area to inspect the roof from inside. Look for any holes, mold, mildew, or damage. If you see any of these, then your roof may have a problem.
Contact a residential roofer to help find the cause of the problem and develop a plan to fix it.
Need help with your roof? Contact Graystone Roofing & Siding in Lancaster, PA
At Graystone Roofing & Siding, we provide quality products and charge a fair and competitive price. Our team of professionals is committed to helping you with your spring cleaning needs for your roof, siding, or gutters.
For a FREE assessment, contact us at (717) 725-7170 or fill out our form to receive a free quote. We look forward to helping you!